Darkness is on the rise, more powerful and sinister than ever before. Humanity has one last hope – hedonistic Angel GODCAT and her depressed alcoholic charge Jasmine.
Can Godcat save Jasmine from the clutches of evil and realign her back to her divine path in time? Or will she be led astray by the darkness that haunts every shadow…taking Humanity down with her?
A new play from Northern playwright Victoria Tunnah, shared as part of 53Two's new writing festival NEWVEMBER.
When an ambitious young politician and her best mate win a luxury holiday to a technologically advanced country, it's all fun and games until they come face to face with the dark side of A.I. Written by emerging playwright Victoria Tunnah and directed by Ellie Rose, I AM NOT A ROBOT is a new play set in the not so distant future. Exploring class, female friendship, and asks when it comes to A.I, how far is too far?

14th - 17th June
The Kings Arms, Salford

***CONTENT/TRIGGER WARNING***
Features drug use, profanity and references to Margaret Thatcher.
They Came for My Mother (In Development)
Coming round and realising she's trapped, 'B' has nowhere to go and no one to turn to but 'A', who's more animal than human.  Locked in a squalid bedroom with nothing but themselves, the shadows beyond the door and the same three channels on repeat, how long before they have to face themselves and each other?
This is a funny, electrically charged look at the shit women have been dealing with for eons. Powerful and raw with elements of absurdism and bouffon clown. We see women's glorious strength and vulnerability, their power in extraordinary circumstances to overcome stifling sexual exploitation and oppression. It looks at the control of girls and women and the intersection between trauma and addiction.
Directed by Leni Murphy, featuring Victoria Tunnah & Izzy McKenty, we shared this early work in a relaxed setting with an audience, here's some things they said –
'I was skeptical at first about how this play would portray trafficking and it's psychological impacts bit I felt it was the perfect blend of brutal honesty and harrowing as well as light hearted – such brilliant writing, honoured to have seen it' (HCF)
'It made me feel trapped, intellectually stimulated, angry, upset. Free. Animal. Proud. Compassionate. Raw. Cathartic. Cool concepts' (CH)
'Really enjoyed the highlight on the world we live in and it's darkness and the box we live in.'
***CONTENT/TRIGGER Warning***
Sensitive subject matter such as Human/sex trafficking, rape, drugs and addiction.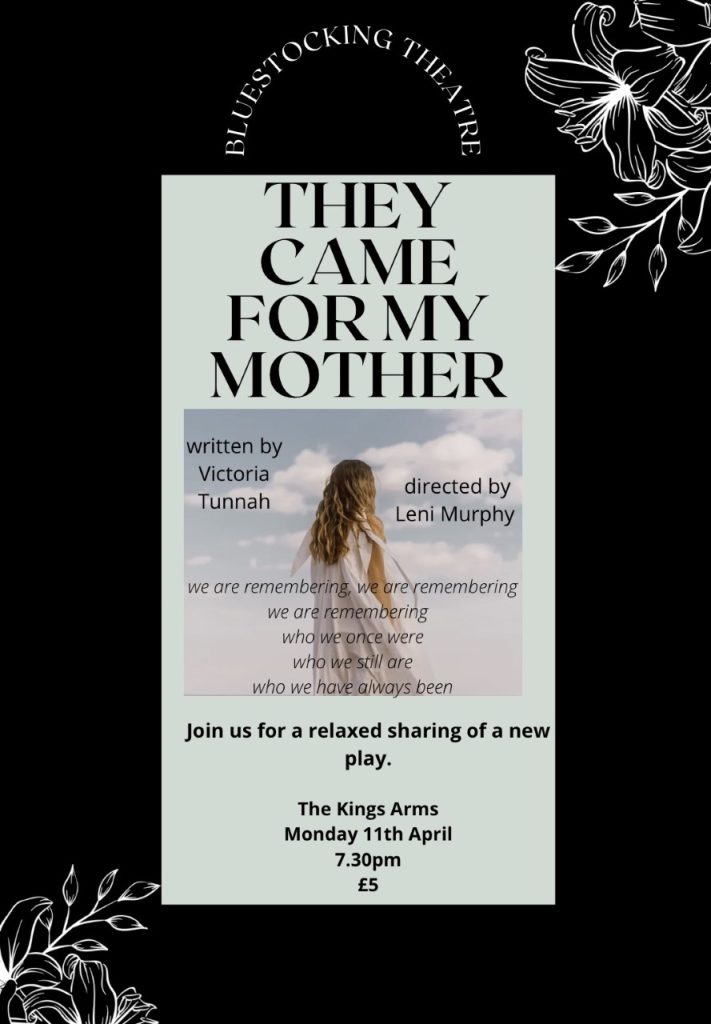 Bluestocking Theatre present their debut new writing night at one of Manchester's finest venues 53Two.
Featuring short plays by some of the North West's most exciting new writers, join us as we journey through 6 different worlds. Meet interstellar visitors, solve a murder and arrive at the shores of a new land as we explore life from a female perspective.
All The Rage is on 6th + 7th October at 53Two, Manchester, begins at 7.30pm with a Q & A with the writers + directors on 7th.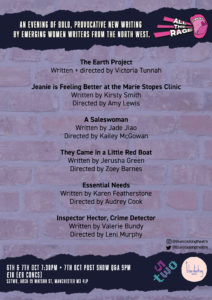 Emergency Door Release explores society's expectations of women, the inherited narratives that shape our view of ourselves and the world and the devastating impact that can have. It follows party girl Louise as she has a breakdown, the realisation dawning that she's about to hit thirty and the clock is ticking, loudly. Meandering through her soul snatching career, diabolical love life and slavish addiction to alcohol, we watch as Louise grapples with the choking feeling that something is very, very wrong.
---
Review: Number 9, Megan Relph
'Victoria Tunnah's portrayal of a Mancunian woman struggling in today's society of uncertainty had a charm and believability that had the audience listening intently…Tunnah's prose was witty, sharp and relevant and written in a wonderfully believable, conversational tone. And thanks to director, Josie Cerise, her movements were natural and contained a good energy throughout. Nothing felt forced, which is in keeping with the writing style…This is not, however, a play made by women for women. The men in the audience also found humour and alarm in this production. This truly is a play which highlights women's place (or lack of) in society and attempts to right that wrong. And it is carried out wonderfully by these three